Everything You Need to Know About Sending Cargo To Pakistan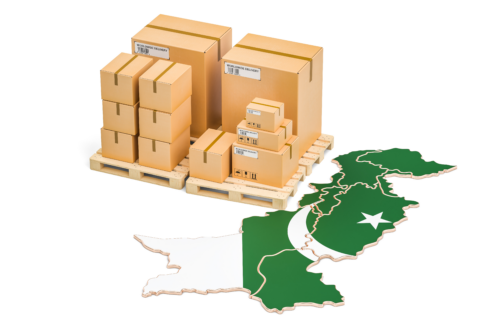 Do you remember when it used to take weeks to send a letter to your loved ones back home?
Luckily now we live in a much more connected world.
Everything is faster, and this includes sending cargo to Pakistan.
If you are looking to send some items back home and:
are unsure how to pack them

want to know how long it will take

want to know how much it should cost

have some general questions
Hopefully, this guide will help you.
How long does it take to send cargo to Pakistan?
Air cargo to Pakistan usually takes around 7 to 10 days. If you're in a hurry and need to send something urgently, air cargo is the best option.
Sea cargo to Pakistan takes around 6 weeks. If you're looking for a low cost way to send your cargo to Pakistan, sea cargo is a good option.
What Items can I send to Pakistan?
You can send most items back home, but there are some restrictions:
NO SHARP OBJECTS, BATTERIES, OR FLAMMABLE ITEMS
How should I pack my items?
For items like clothes, shoes, coats etc. please pack into black bags or laundry bags. When we collect your items we will put the black bags into strong, durable polypropylene sacks.
For delicate items like cosmetics and shampoo etc. please use small boxes or suitcases.
For your fragile items, like glassware, Tvs etc. we highly recommend using our wooden crates. These are custom made to fit your items and although it costs a little bit more, it means that your items will be safe and secure and will not get damaged during the journey.
How much will it cost to send my parcels to Pakistan?
Air cargo starts at £7 per kg + handling fees with a minimum weight of 15kg. (T&Cs Apply)
Sea cargo starts at £1 per kilo. (T&Cs Apply)
Which areas do you collect cargo for Pakistan?
We cover all the major cities, including Birmingham, Cardiff, Bristol, Greater & Central London, Newport, Leicester, Reading and Slough. To check if we cover your area and when we are next going to be collecting near you, give us a call.
Are you in a rush to send? No problem, give us a call and we can arrange a next day collection.
How do I know my items will be safe?
We look after your items as if they are our own.
From collection to sending, each package is treated with the utmost care and transported in our customized vans.
We have invested in the best security and tracking software which means we can trace everything and everything is watched under high quality CCTV security systems.
I have delicate items that I need to send to Pakistan - how do I know they will be taken care of?
We are the only Pak Cargo company that uses wooden crates and specialist packing machines to ensure that everything we send is packed safely and protected from damage.
We frequently send delicate items, such as chandeliers, TVs and glassware to Pakistan, successfully and in perfect condition. So if you have an item you need to send but are worried that it might break, please call us and we will talk you through our packing process and how we will ensure it is taken care of, along with all the other cargo that we send daily to Pakistan.
What makes you different to other Pak Cargo companies?
Our experience. We have been in business for 12 years, and over this time have invested in training and have gained a lot of experience. We know what works and what doesn't and our processes are now the most efficient in the pak cargo business.

Our packing process. We are the only company using wooden crates and other specialist, expensive packing equipment. We don't just send your cargo to Pakistan, we look after it at every stage and get just as excited to deliver it safely as your relatives do to receive it.

Our Service. We are the only pak cargo company who give you a dedicated time slot. This means you don't have to waste your day waiting for someone to collect your cargo. Our dedicated team arrives on time, in the agreed time slot.

Our people. We genuinely care about our relatives back home and we love being the connection between you and your loved ones.
Once I have packed my stuff, what happens next?
Get in touch with our friendly staff to book a time slot.

We will

contact you before arrival. Our team will then carefully pack your box, suitcase or bag into our provided sack.

We check your parcel. We seal and check the weight of the parcel. Payment is usually taken at the time of collection. We then send the parcel to our sorting depot and our trained staff get the parcel ready for delivery to Pakistan.

We send your parcel to Pakistan.

Once your items have arrived in Pakistan our dedicated courier network will call and arrange a delivery time slot. Then they will deliver the parcel(s) to your provided delivery address.
I don't

have bags or boxes to put my stuff in - what should I do?
We can help you with what kind of packaging would be best, once you have your cargo ready to send to Pakistan, either email or call us and our friendly staff will talk you through the best way to pack it.
Did you know we also sell boxes and bags, so give us a call and we can send some export grade boxes out to you for next day delivery.
What happens once my parcel arrives in Pakistan?
We have a fully trained and reliable delivery network set up in Pakistan.
Once your parcel arrives in our Pakistan depot, it is picked up by our couriers and they will contact the recipient at the delivery address and arrange a time slot for delivery.
All of this information is provided to us when you book the parcel to be sent.
Do you provide tracking once the cargo has left the UK?
Yes. All of the cargo that we send to Pakistan is fully trackable.
Every parcel has its own unique reference number with which we can see where it is on its journey from your house to the recipients.
I need to relocate to Pakistan - can you help me move my stuff back there?
Yes. We often help students to move back to Pakistan and anyone else who needs to move back home.
We can safely and quickly send all of your furniture and belongings back to Pakistan and help make the move as stress-free as possible.
It's not easy to move countries, but we have helped several people to move by keeping their belongings organised and safe during transit.
I need to send electronic equipment - can you do that for me?
Yes. We can send your electronic items and equipment to Pakistan.
Please note, we cannot send batteries.
I want to go on holiday to Pakistan, but I have excess baggage. Are you able to send this for me?
Yes we can.
This is a common problem for our community when traveling back home but we can definitely help you solve this issue.
You can send your excess baggage for Pakistan through us, with peace of mind that it will arrive at your destination safely.
Can I send my TV to Pakistan?
Yes you can.
We regularly send TVs as part of our cargo to Pakistan.
We hand make the box so that it's the right size for your TV.
This means that your TV is packed securely in a strong wooden box. It is also wrapped in additional bubble wrap and protective packaging to ensure it is not damaged and arrives in perfect condition at the destination.
Get A Quote